BIOGRAPHY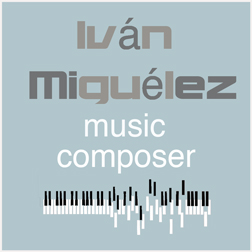 Con una amplia experiencia en el sector audiovisual, he desarrollado gran parte de mi carrera como creativo, compositor y productor musical, trabajando para las principales empresas, cadenas y productoras del cine y la televisión.
Me he formado en Estados Unidos, cursando estudios en la prestigiosa Universidad «Berklee College of Music» en la ciudad de Boston, donde realicé estudios de piano, composición, arreglos, sonido y producción musical, graduándome en la especialidad de «Sound Engineering and Music Production».
Como compositor he compuesto bandas sonoras para algunas de las principales películas de cine, documentales, series de ficción y programas de televisión.
Me he especializado en componer música publicitaria, creando marca para empresas y sintonías de los identificativos, programas e imagen corporativa de las principales cadenas de televisión como Telecinco, Cuatro, Canal +, Discovery Channel, Telemadrid, Neox, Cale 13, etc.
He compuesto también la sintonía de los informativos de Cuatro y la sintonía de grandes grandes eventos deportivos, como la sintonía para la Eurocopa de fútbol del 2008 y el mundial de fútbol de 2010 donde España finalizó como campeona de Europa y campeona del mundo.
Mi trabajo ha sido en muchas ocasiones galardonado en los principales festivales creativos internacionales y ha sido finalista en dos ocasiones a los Premios Goya